Experience the power and success that promotional products offer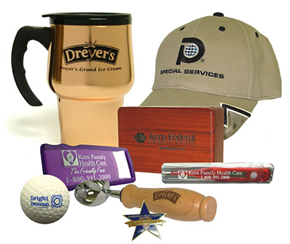 Promotional products are the only medium that engages all five senses. Customers can see, hear, touch, taste and even smell them. Plus, promotional products are easily affordable—yet their impression is long-lasting and readily measurable. Make promotional products an integral part of your marketing mix and watch clients grab onto your message.
Promotional products will:
* Drive traffic to your tradeshow booth
* Improve response rates on direct mail campaigns
* Increase referrals
* Improve return business
* Improve employee morale
* Encourage or retain brand loyalty by the consumer
* Remind consumers that your product exist
According to a recent study, 76.1% of respondents could recall the advertiser's name on a promotional product that they had received in the past 12 months. In addition, 75.4% of respondents said they kept their promotional product because it was useful.
DP Promotions is one of our nation's leading providers of promotional items. We are a one stop shopping center for any item that can be used for your company promotions. If we don't have what you're looking for, we will find it and print your logo, brand or artwork on it to your specifications. We have years of experience and know the unique printing requirements needed to obtain the best results for your items the first time out.
If you're a first time buyer, and have never purchased promotional items before, then feel free to call us, and we will guide you through the process of your first order. You will be pleased with the results, and soon find out just how powerful promotional products are to your business or organization.
Marketing 101 - Effective Branding
In marketing 101, one of the first lessons of marketing is the 4 P's, Product, Pricing, Promotion and Place. The 4 P's are an essential component to your business or organization to be successful. DP Promotions inc specializes in the 3rd P, which is the promotion of your branding campaign.
Branding is an effective marketing tool that can be used for stores, services, and products. It is the process of creating a connection with your consumers, so that when they have a need, they think of you to satisfy that need!
Here we will present one case study to show you just how powerful the right promotional products can be, to promote the branding of your stores, services, and products.
Case Study One - Hammer Bowling Products

I shall pick one random subject for this case study, which will be bowling balls. This case study can also be applied to many other subjects such as beer, carbonated beverages, shoes, clothing, stores, sport teams, sports equipment, cars, aftermarket products, unions, organizations and much much more.
There is a company in Hopkinsville Tennessee called Hammer, which designs and manufactures a line of bowling balls.
I was bowling with some guys in a league, and the subject of bowling balls came up because others noticed that I had bought new equipment. Steve had indicated that he needed to replace his equipment soon, because it was outdated now. I looked at Steve, and noticed he was wearing the Hammer Hat, had a Hammer Jacket, and sported 2 Hammer ball bags and 4 Hammer bowling balls. So I asked Steve if he was going to buy another Hammer Bowling ball, and sure enough, the answer was yes.
One of the successful bowling ball lines that Hammer makes is called the Black Widow. Hammer was clever in not only promoting the company name, but completely promoting the Black Widow brand as well (Effective Branding). Steve had the Black Widow shirt on that night, and had a Black Widow 2 ball tote bag with 2 Black Widow balls (Value Proposition).
This phenomenon of emotional dependence seems to be quite constant, and doesn't surprise me anymore. There seems to be a correlation between consumers selecting a manufacture to be loyal to, and then promoting the selected brand as well. When they find out that promotional products are available that match their equipment company or brand, they rush to the store to buy it, and proudly display it for others to see. The majority of people or consumers seem to automatically develop extreme brand loyalties to many aspects of their daily life, to products or services they think bring them success, or provide a much higher symbol of social status. Perhaps sub-consciously, they want the world to know that this is there gig, of one of the things they are passionate about.
Your promotional products, if done correctly, can produce the same results as well (emotional connection). If your company has the right product that works well or provides instant gradification, then you can apply the same methods as well to produce the same results. The end result will be exponential growth and revenue, and will solidify your position in the market.
This is the Hammer product line. Keep in mind that Hammer is in the bowling ball business, but has successfully created a line of promotional items that revolve around it (Memorabilia's), and actually sell these items at a slight profit. Let's look at some of the items closer in detail.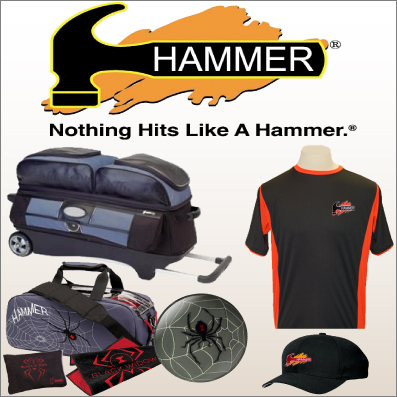 Take Advantage of Our Special Value Added Services
Global Promotional Product Sourcing
Need something custom? No problem! Give us a call to discuss your program details and minimums.Lead times vary from 60 – 90 days after final product/proof approval.
Easy Artwork Submission
Submitting artwork could never be easier. We are online and able to accept artwork via our web site or by email. Submit your artwork to art@dppromotions.com
Free Digital Proofs
Before any order is produced we will email you a digital image of the artwork to confirm the artwork is correct and is placed properly on the item. We assure you that you can see your logo on any product before you make a decision.
Quality Professional Artwork Services
Every logo is reviewed, assessed for clarity, and sized to ensure your brand looks perfect. Need a logo cleaned up or created? No problem! Give us a call.
Free Creative Services
Need a creative promotional idea for your next event? We're your promotional product experts, and are at your service to provide innovative ideas for your specific event or activity. Feel free to give us a call today!
Fast Expedited Delivery
When you need to have your product delivered quickly, we can help. Most of our items can ship within one to five days after receipt of the order and artwork. Give us a call to see what we can do for you.
Free Weekly E-mail Special Offer Notifications
E-mails are sent with creative ideas and tremendous bargains to inspire you with ways to promote your brand. To stay inspired and take advantage of our weekly items on special.
Choose from our famous name brands

DP Promotions
Shop our store and select from 1,000's of customizable promotional items!