Imprint your company or brand logo on promotional items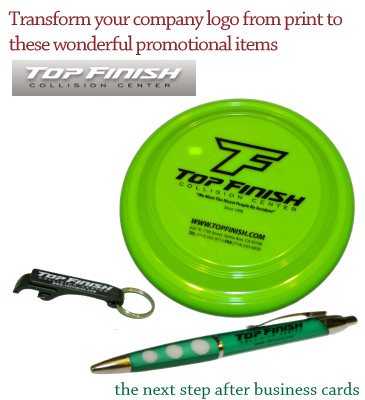 Does your company have a great looking company or brand logo?, if the answer is yes, then it's time to transform that artwork and imprint it on promotional items that you can give away to promote your business.
One of our customers, Top Finish Auto Collision Center has done just that. We took their logo that they submitted, and transformed it into several forms and styles, for imprinting on several different items.
They ordered 4000 pens, 4000 bottle opener key chains and 1000 Frisbee's. The Owners now pass out these give a way's quite frequently, and have attracted many new customers over the course of a year now.
Through the process of effective branding, they have managed to place the name of their company in many people's minds, so when these people need to have their auto body fixed, they think of them first, giving Top Finish the first opportunity to close the deal.
Experience the power that promotional products offer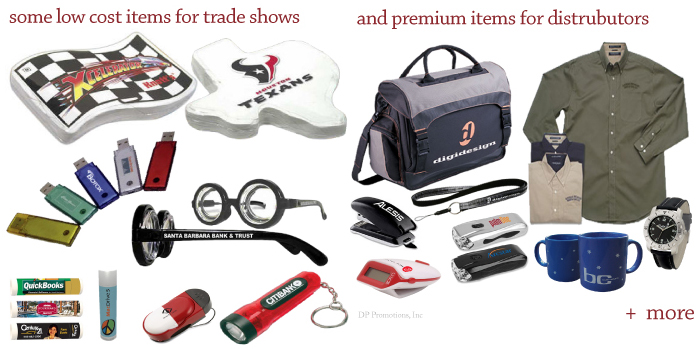 DP Promotions are experts in providing your company with the right promotional product, that your customers will remember for a very long time.
We have years of experience in marketing through effective branding, and have seen and recorded the results of all our past orders, from our satisfied customers.
Did you know?
Promotional products are the only medium that engages all five senses. Customers can see, hear, touch, taste and even smell them. Plus, promotional products are easily affordable—yet their impression is long-lasting and readily measurable. Make promotional products an integral part of your marketing mix and watch clients grab onto your message.
DP Promotions offers thousands of high quality promotional products, which are high in value and will put a smile on your customer's faces. At the same time, we offer hundreds of thousands of low cost items for mass give-a ways for your tradeshows and special marketing events.
Feel free to shop from our store, and view the thousands of products available from many different categories. We bet you'll already have something in mind, but will find something even better after browsing our huge selection of available products.
Can't find what your looking for, them feel free to call 877-222-6206, and we will find that item for you and give you a free quote on it.
Bowling is perfect for team building events
Many companies are now sponsoring team building events, to break the ice between employees, and to show how when a team works together, anything is possible like winning that tournament.
These custom imprinted bowling balls are the perfect choice for the 1st place team prize, or to use as a spare ball promotion campaign.
Companies that sponsor the PBA Tour are now giving away custom imprinted spare balls with their logo or slogan on the front and back of the ball. Lumber Liquidators and Geico are the first that we've seen, but many others are following the lead now as well.
These bowling balls are high quality plastic balls, ranging in weights from 12 to 16 lbs. The graphics will not wear off from use, and the colors are vibrant and fade resistant. They are made in Mexico, and the graphics are printed in the USA.
Prices start at $195.00 each plus shipping, and quantity discounts are available.
Experience the power that promotional gifts offer
When your company does really well for the year, it's time to reward your vendors and distributors with a very special promotional gift. DP Promotions specializes in putting together the right promotional gift that can be either theme based, or just purely show gratuity for the wonderful job done for the year.
Feel free to shop from our store to select the right promotional gift to send out to your vendors and distrubutors, If you have any questions about the product, then please call 877-222-6206 and we will be happy to anwser them for you.
Can't find what you're looking for, or need a promotional item that reflects your company's style and taste? No problem at DP Promotions, we can make or put together almost anything from custom wine packages with your company's logo or brand on the label, Gift Baskets filled with delicious meats, snacks or sweets, and even wrap them in custom wrapping paper that has been designed and branded just for you.
Are you short on time to send out your promotional items, or running low on space? No problem because DP Promotions has the warehouse space your company needs to store your goods over a small period of time. We also offer mass shipping services as well, and will make sure that your gift gets delivered on time, to the intended recipient. Just send us your mailing list and we'll take care of the rest!